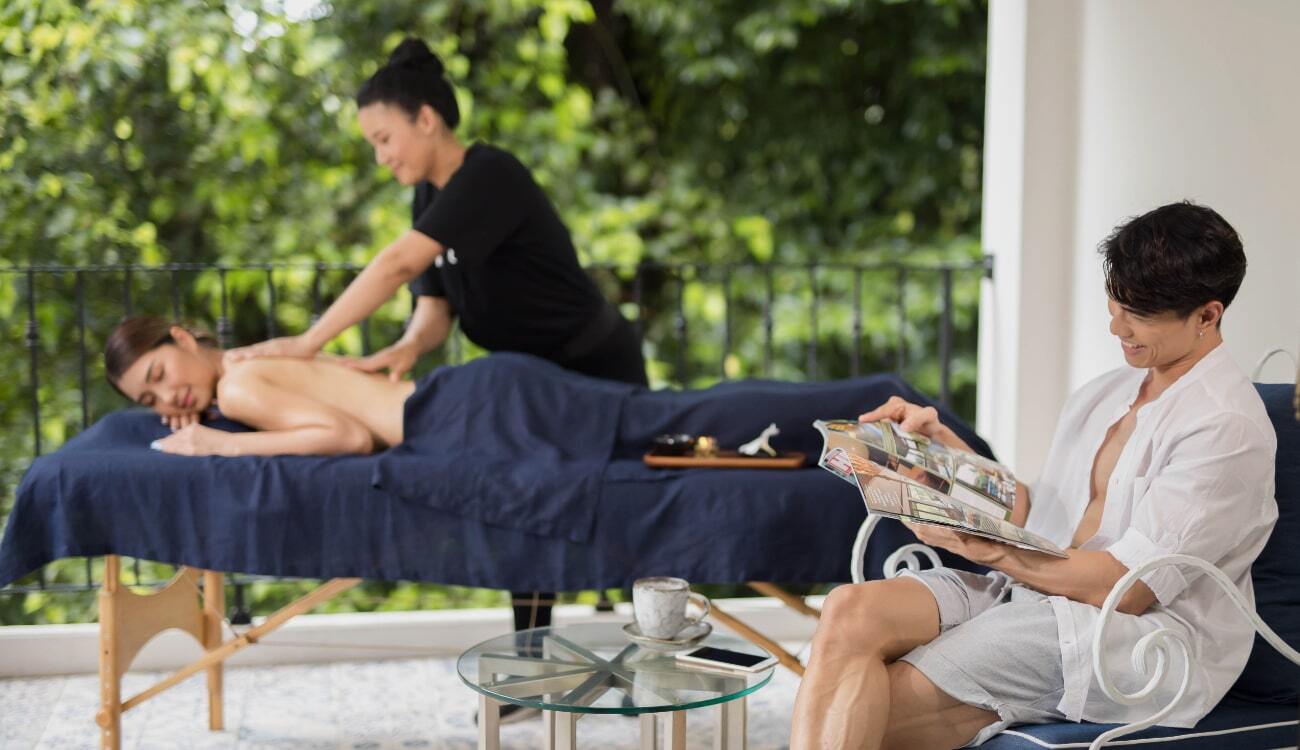 Surprising Relationship Benefits of Massage for Couples
Life can sometimes get very busy and barely leave you with free time to take good care of yourself and your partner. A massage for two is one of the best ways to regain the balance back to your life and your relationship. It allows you to spend time and relax together in the same environment. Let's take a look at these amazing effects of a simple massage on your relationship and some recommended massage for couples.
What is a couples massage?
A couples massage offers a therapeutic massage experience for couples in the same relaxing environment. By selecting two therapists, you and your partner are able to enjoy massage sessions at the same time when laying side by side. A spa or a massage parlor may also provide relaxing music, scented candles, and other decorations to set the mood. 
If you're looking for a relaxing date activity, a couples massage is a great way to treat your loved one and unwind together on special occasions like Valentine's Day or anniversaries. Here are some benefits of a couples massage for your relationship.
Lower Stress and Anxiety
Couples with kids can sometimes become very stressed and barely have time to take good care of themselves. And after a long week, you both suddenly run out of positive energy and might be in an irritable state of mind. A couples massage is a great way to give yourselves the relaxation you deserve. It will keep your life in balance and lift your mood as it helps reduce daily stress and anxiety.
A therapeutic massage enhances well-being by relaxing tension in muscles and soft tissues with massage techniques such as rubbing, kneading, and stroking. During a massage, blood flow and circulation are increased so that your mind and body can truly relax. These positive results will last long after and keep you in a good mood so you can have a thoughtful conversation that is not fueled by stress and become a better listener to your significant other.
Increase Affection and Connection
Couples can leave their worries behind and give full attention to the relaxation when having a massage together. In general, a massage can increase the number of happy hormones such as endorphin, dopamine, and especially oxytocin. Oxytocin or the "cuddle hormone" is a hormone that promotes the feeling of love and social bonding. It will reconnect you and your loved one, rejuvenate the mind and boost feelings of intimacy and affection for your partner.
Anyway, if both of you are new to massage, we suggest you mention your health concerns to therapists and tell them right away if you feel pain during a session.
Indulge Together
Keeping your loved one close to you and indulging together in a relaxing massage session is a simple yet romantic way to increase happiness in a relationship. For some couples who are bored by a typical dinner, movie night, and want to try something new, a couples massage is worth a try and may become your new favorite activity together. It is also a great gift to show your love and attention to your partner.
However, we suggest that you don't overeat beforehand and only have a light meal before a full body massage to avoid discomfort. The couple can later treat themselves with a nice dinner date after the massage.
Recommended Massages For Couples
Aromatherapy Massage
Aromatherapy massage is a popular massage option for couples to enjoy a blissful scent of essential oils combined with gentle massage movements throughout the body. The therapeutic oil will rejuvenate the skin, alleviate your stress, and boost your mood – ensuring calmness and relaxation for body and mind.
Thai Massage 
Thai massage uses gentle pressure on the energy lines of your body. Further, the yoga-like stretching helps relax your whole body at the deepest level. You can choose a strong or soft massage, depending on how intense you'd like it to be. If you're a couple looking for a way to relieve muscle stiffness and energize your body, a session of Thai massage is right for you.
Head, Back, Shoulders, and Foot Massage
Head, back, shoulders, and foot massage is aimed to provide relaxation all over the body, especially on overworked feet. A therapist will begin the massage on the soles of your feet and ends on the top of your head after massaging your back and shoulders. This massage is suitable for tourist couples and couples who love walking and jogging.
In conclusion, a couples massage can be done in many ways depending on your preferences. If you're too tired to go to a spa for a massage, RLAX Massage is here to provide an on-demand massage to the comfort of your home and condo. Our professional practitioners will deliver relaxation in a loving atmosphere for you and your partner. As a couple's massage is not only subjected to couples, you can also book a couple's massage for your friend or a family member. Our therapists will adapt to the mood.