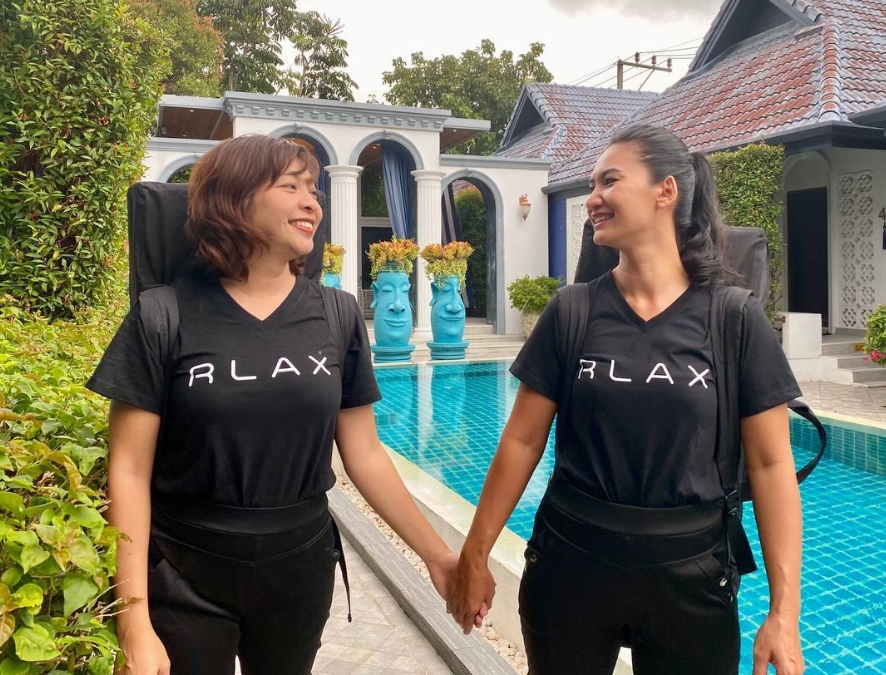 Home Massage Delivery made easy. Are you ready for a heavenly experience?
We will deliver Phuket's best home massage providers to your doorstep with just a few clicks. RLAX is available for you to enjoy from the comfort of your home, office, or hotel.
Which is YOUR favourite massage?
Aromatherapy Oil Massage
Combining Aromatherapy with a deep tissue, full-body massage.
Learn more
Thai Massage for Health
Gentle pressure on energy lines combined with yoga-like stretching.
Learn more
Head, Back, Shoulder and Foot Massage
Starts on the soles of your feet and ends on the top of your head.
Learn more
Facial Acupressure and Head Massage
Get a younger looking face and relief from headaches and facial tension.
Learn more
Massage to Relieve Office Syndrome
Helps with pain and soreness in the spine, neck, or back caused by sitting.
Learn more
Jap Sen Massage
Touch of the 10 meridian lines to detox the body, mind, and emotions.
Learn more
Professionally-trained therapists bring the spa experience to your place.
Book 90 minutes in advance! Save time commuting and dealing with bad traffic.
Looking for a massage at home in Phuket?
Phuket is the biggest island in Thailand. It is located in the Andaman Sea, west coast of the country.
The island is famous for its beautiful beaches making it a huge attraction to international visitors. Being heavily influenced by Chinese culture, Tourists will see many Chinese shrines and restaurants along with Thai palaces and temples. Furthermore, because of its great location by the sea, The island offers numerous activities to its guests such as snorkelling, kayaking, scuba diving, windsurfing, and many more.
Seeing that Phuket is a major destination for tourists, we decided to make RLAX home massage available on the island to bring that relaxing experience to a whole new level. With the different types of massages that RLAX has to offer, you'll definitely be spoiled for choice!
Did you know that RLAX also offers its outcall massage services in another three amazing beach getaway locations: Chonburi, Pattaya & Hua Hin! Or alternatively if you are wanting to travel up North, do check us out in Chiang Mai too!
You can find us in all of Thailand's most popular locations and we are still rapidly expanding.
Your Ideal Outcall Massage Provider in Phuket
Phuket is all about fun, it is Thailand's number one island for the mix of tropical beaches and amazing nightlife. The area is culturally rich and with so much to explore and many visitors report enjoying their stay. And to keep the mood going, nothing beats a soft, relaxing massage. RLAX home massage is an incredible experience to have on top of other activities in Phuket.
A massage can have a large number of benefits such as:
Improve the circulation of blood
Reduce stress and alleviate anxiety
Enhance flexibility
Refresh your mood
Relax the muscles and lessen the tension
Stretch out the body for better mobility
RLAX greatest advantage that all these benefits can be realised at your home because our convenient mobile massage service is delivered straight to you where the treatment is more comfortable and easily attainable. Forget transportation, forget phone calls, with simple clicks, you can have Phuket's best therapists at your location within 90 minutes!