Introduce relief to your body. Take the pain away and mitigate stress with a rejuvenating massage.
Have a treatment that will heal your movement and refresh your mind.
RLAX Head, Back, Shoulders, and Foot massage will help you stimulate circulation and reduce muscle tension.
Order through our website
or app with just a few clicks.
A trained RLAX massage therapist will confirm your booking & arrive promptly on the time and day of your choice.
Enjoy your treatment, knowing
that you are in capable hands.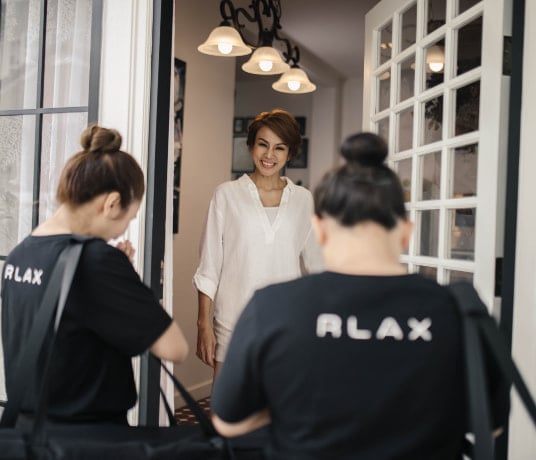 You are in good hands!
All RLAX therapists are rigorously trained, fully qualified, and accredited by the Ministry of Public Health. Our Therapist Training and Onboarding procedures are done in cooperation with the Thai Oasis Spa School, a sister brand of Oasis Spa, one of Thailand's most acclaimed day spa industry companies.
Head, Back, Shoulders, and Foot Massage
Sometimes people get tired and that is completely normal considering the amount of work we put daily. Working 8 hours or more a day can have a great impact on your body. Sitting in a chair for long hours with very little movement will eventually affect your posture resulting in built-up tension in your back and shoulders. In order to begin healing tense areas, a massage would be recommended. The RLAX Head, Back, Shoulders, and Foot Massage will help you get rid of soreness and all those muscle knots.
This treatment begins on the soles of your feet and ends on the top of your head after massaging your back and shoulders. Although it is the perfect prescription for walkers, joggers, runners, and enthusiastic tourists, it's also fantastic for everyone who wants to feel unbelievably great head to toe. It begins with Foot Reflexology which not only treats the feet but also restores energy throughout. Combined with a Thai massage for the rest of your body and you have a "Total Therapy Treatment."
At the end of the day, the idea behind a massage is to feel good after. But it is not easy to know what your body needs. Moreover, it is not easy to find a good treatment. RLAX mobile massage is not just any service, we hold very high standards and we want a consistently fantastic experience. Our therapists are properly trained and experienced, ensuring a quality treatment delivered to you.
The Head, Back, Shoulders, and Foot Massage have several benefits such:
Reduce Stress
Ease body tension and heal muscle knots
Enhance blood circulation
Promote better sleep
Alleviate swelling, especially to the feet
Fights depression and lift up your mood
It is important to remember that you deserve a break from work and all the stress that comes with it.
So we want you to know that we got you covered.
Book a treatment and relax, knowing you are in good hands!