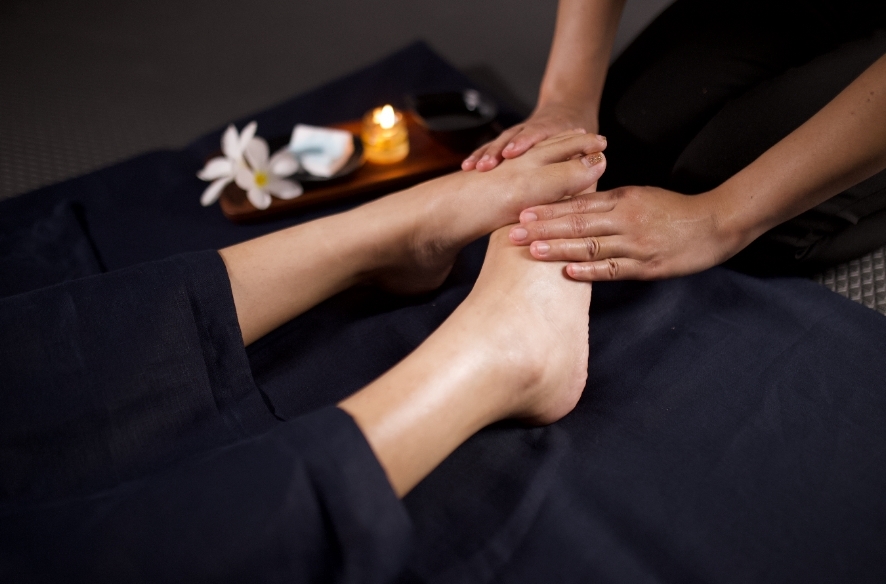 The Head, Back, Shoulder & Foot massage is a treatment that focuses on specific areas in the upper body & feet. This helps to relieve tension in the muscles, stimulates the nerves, improve blood circulation, restore comfort and alleviate any discomfort in this typically tense area.
Order a massage at home through our website or app with just a few clicks.
A trained RLAX massage therapist will arrive promptly on the time & day of your choice.
Enjoy your home massage treatment, knowing that you are in capable hands.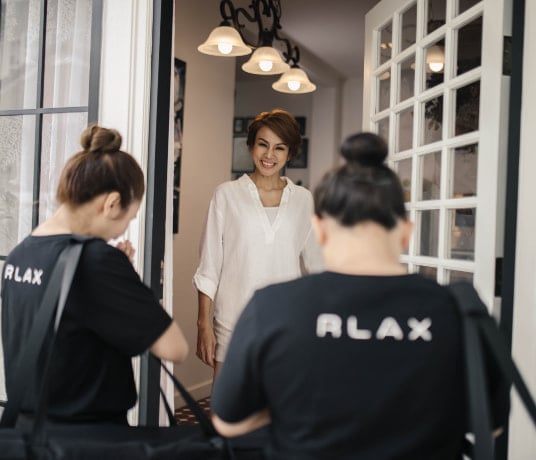 All RLAX massage therapists are rigorously trained, fully qualified, and accredited by the Ministry of Public Health. Our Therapist Training and Onboarding procedures are done in cooperation with the Thai Oasis Spa School, a sister brand of Oasis Spa, one of Thailand's most acclaimed day spa industry companies.
Head, Back & Shoulder Massage
The Head, Back and Shoulder Massage is extremely relaxing and it is effective in relieving any tension headaches, stimulating nerves, boosting blood circulation and alleviates stiffness in the upper body.

This therapeutic treatment involves a thorough massage along your head, scalp, neck, shoulders and upper back area. This massage treatment is ideal for office employees who spend long hours hunched at the desk and sitting in their chair. This particular focus on the upper body will aid in relaxation and assist in the decrease of stress hormones in the muscles which can create a lot of discomfort and pain.
Book a Head, Back, Shoulder & Foot Massage straight to your home
For the Head, Back, Shoulder & Foot massage, our therapists will combine massage techniques like acupressure, strokes and kneading that will help to relieve any muscle knots in the upper body, increase blood circulation and the overall energy flow through the body. It is an effective massage technique to use for the treatment of stiff muscles, stress and acute pain.
The benefits of this massage include:
Improved sleep
Ease body tension and heal muscle knots
Enhanced blood circulation
Relieve headaches and migraines
Alleviate swelling, especially in the feet
Reduces cortisol and releases serotonin
RLAX Home Massage delivery provides a great opportunity for you to experience a spa-quality massage in the comfort of your own home or hotel. You can find us in all of Thailand's most popular locations and we are still rapidly expanding.
If you are also interested in trying out different massage treatments, then you could choose from one of the options available: