RLAX Hotel & In-room Massage provides the perfect solution for people that love massages but wish to stay indoors.
With just a few clicks, we bring the finest in-room massage providers right to your doorstep. Whether you're staying at a hotel or a villa, you can indulge in a truly enjoyable experience without having to leave your accommodation.
Which is YOUR favourite massage?
Aromatherapy Oil Massage
Combining Aromatherapy with a deep tissue, full-body massage.
Learn more
Thai Massage for Health
Gentle pressure on energy lines combined with yoga-like stretching.
Learn more
Head, Back, Shoulder and Foot Massage
Starts on the soles of your feet and ends on the top of your head.
Learn more
Facial Acupressure and Head Massage
Get a younger looking face and relief from headaches and facial tension.
Learn more
Massage to Relieve Office Syndrome
Helps with pain and soreness in the spine, neck, or back caused by sitting.
Learn more
Jap Sen Massage
Touch of the 10 meridian lines to detox the body, mind, and emotions.
Learn more
Professionally-trained therapists bring the spa experience to your place.
Book 90 minutes in advance! Save time commuting and dealing with bad traffic.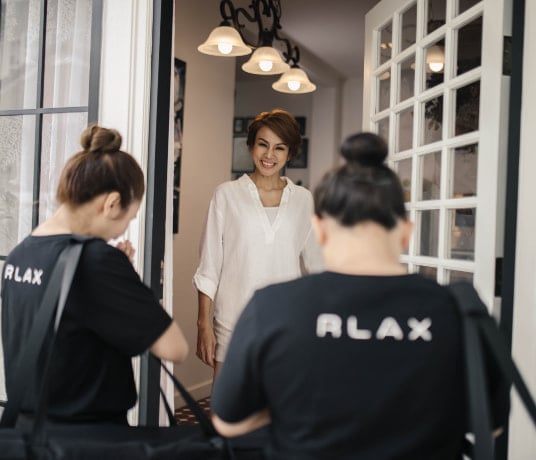 Our Therapists and Quality Standards
All RLAX in-room massage therapists are rigorously trained, fully qualified, and accredited by the Ministry of Public Health. Our Therapist Training and Onboarding procedures are done in cooperation with the Thai Oasis Spa School, a sister brand of Oasis Spa, one of Thailand's most acclaimed day spa industry companies.
RLAX Hotel & In-room Massage
Book yourself a spa-quality massage experience without ever leaving the confines of your room.
The therapist will bring everything needed for the perfect in-room massage which includes a mat, clean linen sheets, organic massage oils, hand sanitizing gel, & music.
For your own comfort we suggest that you prepare:
A clean area for the massage
A pillow to rest your head on during the massage
Wear loose-fitting & comfortable clothes
Indulge in the relaxation you deserve within 90 minutes of booking! Available from 09:00 to 23:00 (*Last booking at 21:00).
Unwind in Your Room with Spa-Quality Massages
You can find us in multiple locations across Thailand.
If you're looking for different massage treatments, select from a range of options available: