Bring the massage to your home, hotel, or office. Experience a Therapeutic massage that will leave you stress-, pain-, and tension-free.
Stimulate your senses, boost your mood, and stay energized with RLAX. Available for you, 7 days a week, from 8 am to 12 pm.
Order through our website
or app with just a few clicks.
A trained RLAX massage therapist will confirm your booking & arrive promptly on the time and day of your choice.
Enjoy your treatment, knowing
that you are in capable hands.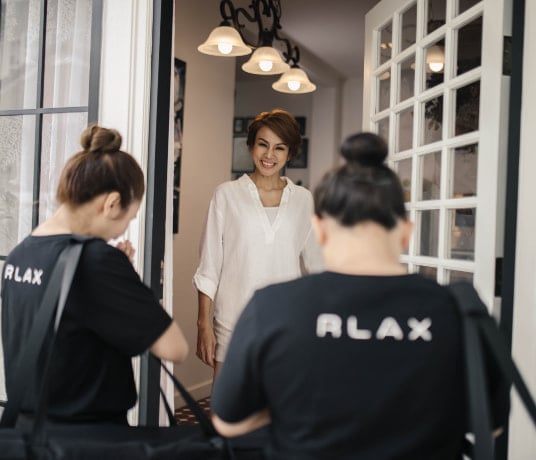 You are in good hands!
All RLAX therapists are rigorously trained, fully qualified, and accredited by the Ministry of Public Health. Our Therapist Training and Onboarding procedures are done in cooperation with the Thai Oasis Spa School, a sister brand of Oasis Spa, one of Thailand's most acclaimed day spa industry companies.
Why get a massage at Home?
You may find yourself longing for a massage after a long week of work. However, driving to a spa takes precious time, especially now that you want to enjoy your free time and are too tired to drive. Plus, the weather is totally not giving you the chill vibes. And, the traffic is too much to handle. You start questioning the value of the massage and eventually, you give up on the idea.
Well, with RLAX you can forget about these problems. Our mobile treatment service provides the convenience of having a premium massage at home. Moreover, the wide range of massages makes your personal preference attainable. While a Thai Massage helps you get rid of tension and muscle knots, an Aromatherapy Oil massage brings you deep relaxation and will help you sleep better.
Home Massage has never been more easy
In fact, each treatment is an amazing soothing experience in its own unique way. Our professional practitioners will gift you their full attention. At the end of the day, you will find yourself keener for a massage than ever before and you have every right to be.
A massage at home perfectly represents how on demand services are revolutionizing the world. The most important benefits a massage can offer you are:
Deep relaxation
An energized mind and better focus
A boost for your mood to the better
No time killers like driving
An energized body and decreased pain
RLAX massage can offer you all that and more. We bring a relaxing spa environment to the comfort of your own home, condo, or office. So what are you waiting for? Book your first massage now.