Order through our website
or app with just a few clicks.
A trained RLAX massage therapist will confirm your booking & arrive promptly on the time and day of your choice.
Enjoy your treatment, knowing
that you are in capable hands.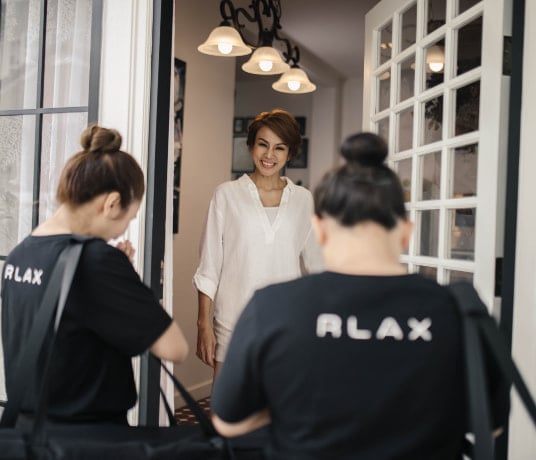 You are in good hands!
All RLAX therapists are rigorously trained, fully qualified, and accredited by the Ministry of Public Health. Our Therapist Training and Onboarding procedures are done in cooperation with the Thai Oasis Spa School, a sister brand of Oasis Spa, one of Thailand's most acclaimed day spa industry companies.
Whether you are under pressure at work, experiencing relationship or school stress that is taking a toll on you, RLAX Aromatherapy Oil Massage is an ideal choice for you

Combine Aromatherapy with deep tissue, full-body massage, and get awesome results – stress reduction, anxiety relief, increased calmness, decrease in muscle tension, reduction in depression, and much more. In addition, many report relief from pain from a wide variety of causes. When essential oils are able to penetrate into the bloodstream through both the skin and the olfactory system, the relief is profound for both the mind and the body.
During the massage, your skin absorbs these essential oils. This creates a clean and gentle feeling that helps ease your nerves. Your body becomes a vessel for a relaxing experience absorbed by your brain, specifically the limbic system that is involved in emotions.
The mix of oil and the delicate touch of therapists offer the maximum level of pleasure. The gentle kneading stimulates the blood flow, ensuring an energized, calm, and relaxed body and mind.
Begin your journey of relaxation with us. All RLAX practitioners professionally trained, so rest assured that you are in fabulous hands!

There is so much to gain from an oil massage. To begin with, it is a process of detoxing that will leave you recharged for days. Moreover, there are many reflex points that sometimes need stimulation and massaging. These points have a great impact on a person's health including the heat and stomach. In other words, many clients will notice their general well-being improves, especially their sleep. After an oil massage, your body and mind will feel so refreshed that your sleep will be deeper and you will finally be having those sweet dreams.
Furthermore, a comfortable massage needs a comfortable environment so what is better than the location of your choosing?
RLAX massage on demand provides a great opportunity for you to experience something different. Bringing the oil massage to you will be mesmerizing because while breathing in the aroma of the oil, your state of mind is reaching tranquility and your body is having all its toxins being thrown out. So give your body the relief it needs and consider a RLAX Aromatherapy Oil Massage.