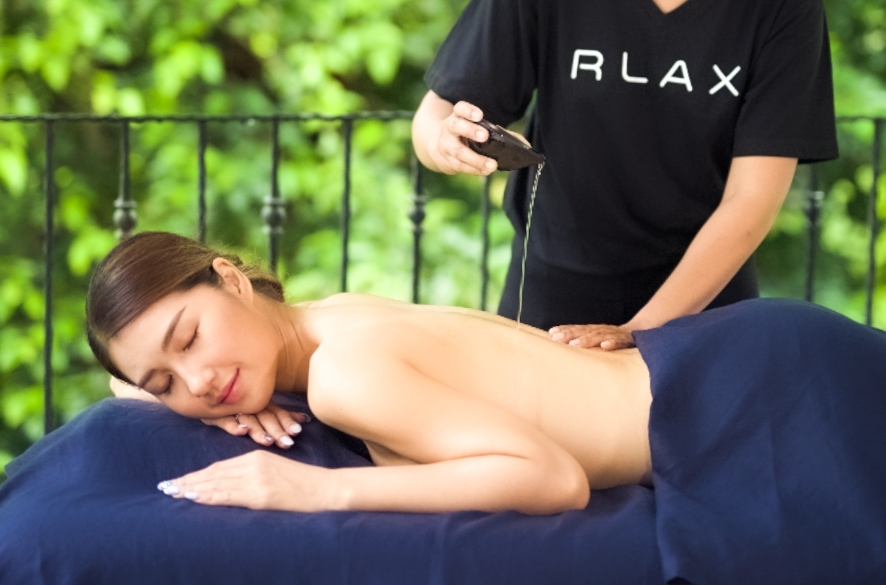 Order a massage at home through our website or app with just a few clicks.
A trained RLAX massage therapist will arrive promptly on the time & day of your choice.
Enjoy your home massage treatment, knowing that you are in capable hands.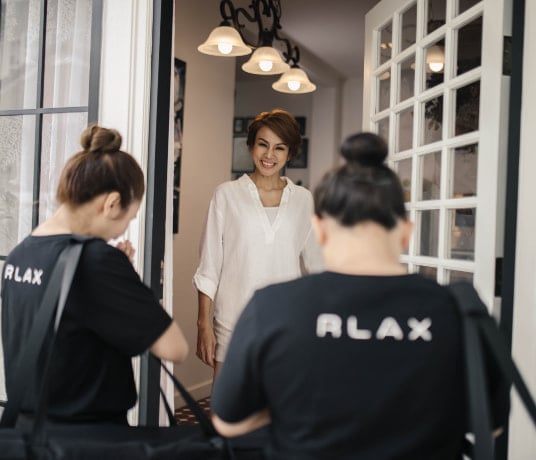 You are in good hands!
All RLAX mobile massage therapists are rigorously trained, fully qualified, and accredited by the Ministry of Public Health. Our Therapist Training and Onboarding procedures are done in cooperation with the Thai Oasis Spa School, a sister brand of Oasis Spa, one of Thailand's most acclaimed day spa industry companies.
Oil Massage & Aromatherapy
Oil Massage & Aromatherapy is a holistic healing treatment that makes use of natural essential aroma oils and a deep tissue, full-body massage to enhance the health of your body, mind, & soul. 
One of the benefits of an oil and aromatherapy massage is how the pressure and kneading from a massage can aid in the increase of blood flow circulation to muscles and vital organs.
It helps to reduce stress, relieve anxiety, increase calmness, reduce muscle tension & depression. In addition, the tension relief is profound for both the mind and body when essential oils are able to penetrate into the bloodstream through both the skin and the olfactory system.
During the therapeutic massage, your skin absorbs these essential oils which help to reduce inflammation or any pain in your muscles and joints. Your body becomes a vessel for a relaxing experience absorbed by your brain and when the limbic system is stimulated, you will start to feel a relief of your aching muscles.
The mix of aromatic oil and the delicate, professional touch of our therapists offer a maximum level of pleasure. The gentle kneading stimulates the blood flow, ensuring an energised, calm, and relaxed body, mind & soul.
Book an Oil Massage straight to your home
Begin your journey of relaxation with RLAX, all our massage therapists are professionally trained so be rest assured that you are in fabulous hands!

There is so much to gain from an oil massage and it is a process of detoxing that will leave you recharged for days. Moreover, there are many reflex points that sometimes need stimulation and massaging because it can help with improving circulation, reduce swelling, release tension, relieve pain & calm emotions. After the oil massage, your body and mind will feel so refreshed because you'll be experiencing a proper and deeper sleep. 
What better way to experience an extremely comfortable massage than in your own home or location of your choice? You no longer have to deal with bad weather or bad traffic conditions that might further increase anxiety and stress levels. Our therapists will bring everything needed for the perfect massage: Fresh towels, massage mat, essential oils, massage balms and even relaxing music to set the mood.
RLAX Home Massage delivery provides a great opportunity for you to experience a spa-quality massage in the comfort of your own home or hotel. You can find us in all of Thailand's most popular locations and we are still rapidly expanding.
If you are also interested in trying out different massage treatments, then you could choose from one of the options available: