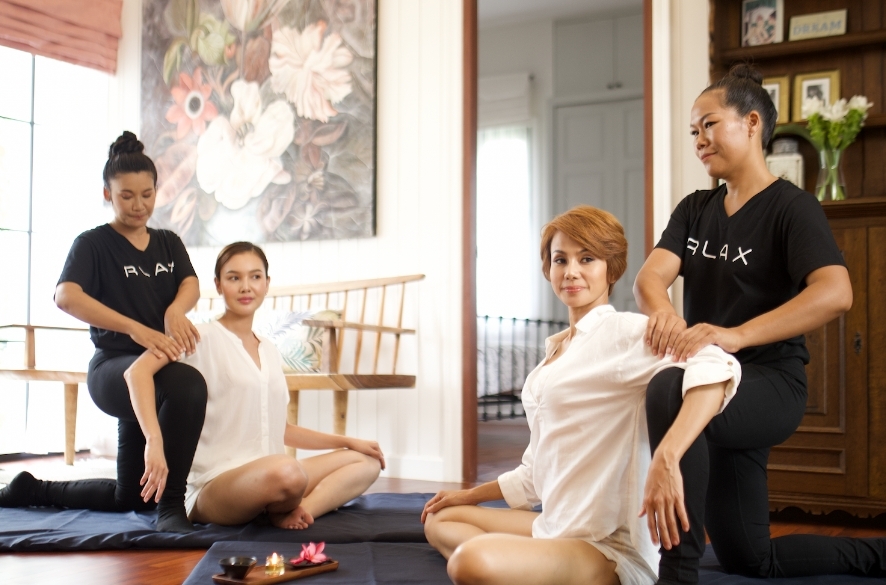 Thai massage is a holistic full-body treatment because you begin by lying on your back, while the therapist starts at your feet using their thumbs, palms, forearms and knees.
RLAX Thai Massage for Health will help stimulate blood circulation and boost your energy through targeted yoga-like movements.
Order a massage at home through our website or app with just a few clicks.
A trained RLAX massage therapist will arrive promptly on the time & day of your choice.
Enjoy your home massage treatment, knowing that you are in capable hands.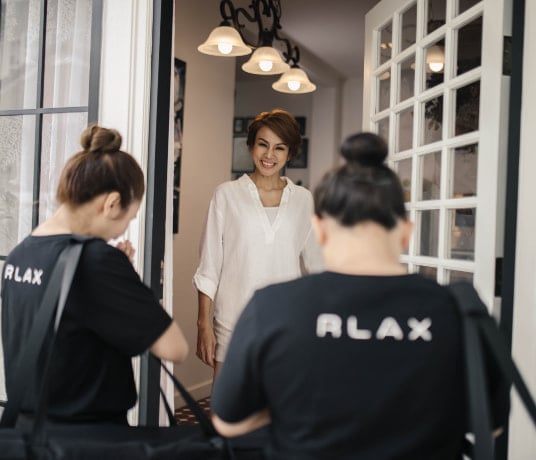 All RLAX massage therapists are rigorously trained, fully qualified, and accredited by the Ministry of Public Health. Our Therapist Training and Onboarding procedures are done in cooperation with the Thai Oasis Spa School, a sister brand of Oasis Spa, one of Thailand's most acclaimed day spa industry companies.
Thai Massage for Health
The origins of Thai Massage have been traced back to India dating back to over 2,500 years. The traditional Thai massage incorporates influences from both traditional Ayurvedic and Chinese medicine techniques.
For a Thai Massage, you will be required to lie down fully clothed while our therapists use of a combination of pulling, stretching techniques that will help promote relaxation, improve blood circulation and relieve any tension or muscle knots.

Thai Massage also focuses mostly on improving the overall energy flow throughout the body.
The benefits of Thai Massage are that it could help reduce any lower back and joint discomfort, helps to stimulate the lymphatic system, relieve headaches, calm anxiety, and rejuvenate your mind & body.
Book a Thai Massage straight to your home
Traditional Thai massage differs from other types of massages in the following ways:
Traditional Thai Massage follows the imaginary energy lines (also known as "sen") which help to maintain a person's mental & physical well-being

The therapist will make use of their fingers, palms, elbows, forearms and sometimes, even their feet to help relieve any tight muscle knots or tension.
This massage technique does not require the use of lotions or oils and you will be dressed in loose-fitted clothes.
The therapist will move your body into certain yoga-like positions and simultaneously gently rocking or pulling the body in different directions. This combination of body movement, stretching and pressure release is what makes Thai Massage unique.
RLAX Home Massage delivery provides a great opportunity for you to experience a spa-quality massage in the comfort of your own home or hotel. You can find us in all of Thailand's most popular locations and we are still rapidly expanding.
If you are also interested in trying out different massage treatments, then you could choose from one of the options available: