Order through our website
or app with just a few clicks.
A trained RLAX massage therapist will confirm your booking & arrive promptly on the time and day of your choice.
Enjoy your treatment, knowing
that you are in capable hands.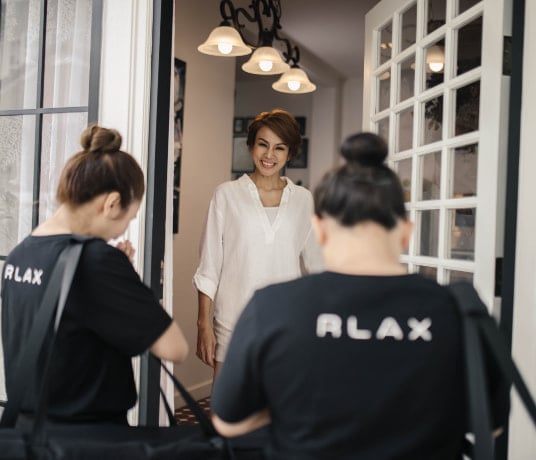 You are in good hands!
All RLAX therapists are rigorously trained, fully qualified, and accredited by the Ministry of Public Health. Our Therapist Training and Onboarding procedures are done in cooperation with the Thai Oasis Spa School, a sister brand of Oasis Spa, one of Thailand's most acclaimed day spa industry companies.
If you are wondering what a life without back pain is like, look no further. Whether that office chair is taking a toll on you, or you feel like your bones need some cracking, RLAX Thai massage is here to give you a fantastic treatment.
A Thai massage is an ancient form of healing that focuses on the energy points of the body. It dates back to more than 2,000 years ago and was developed initially by Buddhist monks in Thailand.
Spas, massage parlors, and wellness centers adopted the Thai massage as an approach to healing muscle soreness while lowering stress and energizing your body.
In addition, athletes consider Thai massage as the go-to massage after a workout. The massage uses stretching techniques that eliminate any muscle tension or body aches that would cause headaches or back discomfort.
Our Thai massage uses gentle pressure on energy lines and yoga-like stretching to relax the whole body at the deepest level by reducing stress levels and improving overall circulation to bring better health and healing. Gradual movements through yoga-like positions have been utilized for centuries to treat energy blockages, weak and dysfunctional organs, aches and pains, stress, and tension, and much more. It opens the body's energy line system, Sen Lines, which corresponds with Chinese acupuncture and ancient Indian Ayurvedic practices.
RLAX professional and qualified practitioners are trained to deliver the optimal Thai massage with relief. Depending on your comfort level, the therapist can deliver a strong or soft massage.
The RLAX mobile massage packages take into consideration the limited free space. Therefore, our therapists are adapted to treat clients in small areas. Our treatment combines the benefits of a traditional Thai massage with the warmth of a familiar place, such as home, office, or hotel room.
Our greatest convenience is that we offer a massage on demand. To elevate the comfort of treatments, we bring the massage to you, saving you time and money. Life is certainly more pleasant when you are feeling the need for a massage and in a few minutes, a therapist is at your door. Or while you are working, sitting on your office chair, getting a back, head, and shoulders rub.
An hour of RLAX Thai massage will leave your body grateful and your mind cheerful.
So are you ready for a heavenly experience?