Order through our website
or app with just a few clicks.
A trained RLAX massage therapist will confirm your booking & arrive promptly on the time and day of your choice.
Enjoy your treatment, knowing
that you are in capable hands.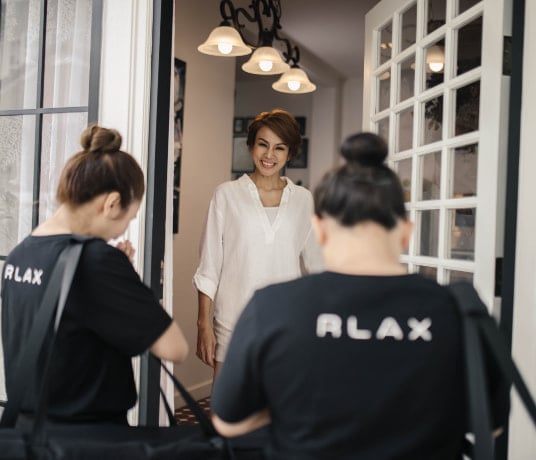 You are in good hands!
All RLAX therapists are rigorously trained, fully qualified, and accredited by the Ministry of Public Health. Our Therapist Training and Onboarding procedures are done in cooperation with the Thai Oasis Spa School, a sister brand of Oasis Spa, one of Thailand's most acclaimed day spa industry companies.
Experience Jap Sen Massage
Jap Sen is a deeply probing form of Thai massage that penetrates underlying back muscles to relieve pain and tension. It improves flexibility, softens tensed body muscles, and promotes better health and circulation throughout the body. This massage has proven to be very effective for those experiencing acute back pain.
RLAX has developed a unique technique for performing the Jap Sen massage that detoxes the body, mind, and emotions. This massage touches the 10 meridian lines to open the invisible pathways that run throughout the body distributing "life energy." Opening and unblocking these channels balances the flow of energy and restores the proper functioning of the body and mind. The result is better health physically, mentally, and emotionally as well as the prevention and alleviation of discomforts and pains.