Begin the healing journey that your body needs. Receive a therapeutic massage that helps relieve tension from your back, neck, and shoulders.
You've been working hard, allow our skilled therapists to help relieve you from all that pain from sitting in that office chair.
Order through our website
or app with just a few clicks.
A trained RLAX massage therapist will confirm your booking & arrive promptly on the time and day of your choice.
Enjoy your treatment, knowing
that you are in capable hands.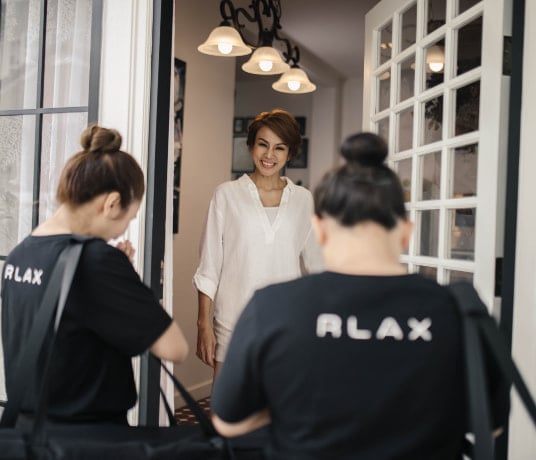 You are in good hands!
All RLAX therapists are rigorously trained, fully qualified, and accredited by the Ministry of Public Health. Our Therapist Training and Onboarding procedures are done in cooperation with the Thai Oasis Spa School, a sister brand of Oasis Spa, one of Thailand's most acclaimed day spa industry companies.
Massage to Relieve Office Syndrome
Being glued to your chair for 8 hours a day can have a great toll on your body. Most importantly, your spine can face severe damage that will affect your joints and muscles, resulting in chronic pain. In the beginning it might seem like nothing serious. Usually, you start feeling tension in the area of your neck and shoulders. This evolves into serious soreness around the eyes, involving dizziness. All this seems scary, so you might ask yourself: What can I do to prevent this? We definitely think you should consider having a massage.
RLAX offers the perfect treatment for you: Our Office Syndrome Relief Massage is performed by experienced therapists, which are all licensed by the Ministry of Public Health to ensure the best results. The treatment involves strokes along the upper body, stretches focused on the spine, and kneading of the neck. The massage is an extension of Traditional Thai Massage with a clear focus on office syndrome.
It is usually possible to spot Office Syndrome early on and to treat it before risking severe damage. The most common symptoms include headaches, neck oain, dizziness, chronic muscle pain, numbness in wrists or feet, back pain, and tightness in the shoulders. It is also important to mention that you should always consult your doctor if you're feeling severe pain. Additionally, our RLAX massage tailored specifically for Office Syndrome massage can help soothe the pain.
The massage offers the following benefits:
Loosing up tension around the neck
Healing chronic back pain
Alleviate tightness in the shoulders
Removing muscle knots
Reducing Stress and Anxiety
In the end, Office Syndrome should not take a piece of your mind. So, enjoy our therapeutic massage, feel the relief, and simply relax.