Order through our website
or app with just a few clicks.
A trained RLAX massage therapist will confirm your booking & arrive promptly on the time and day of your choice.
Enjoy your treatment, knowing
that you are in capable hands.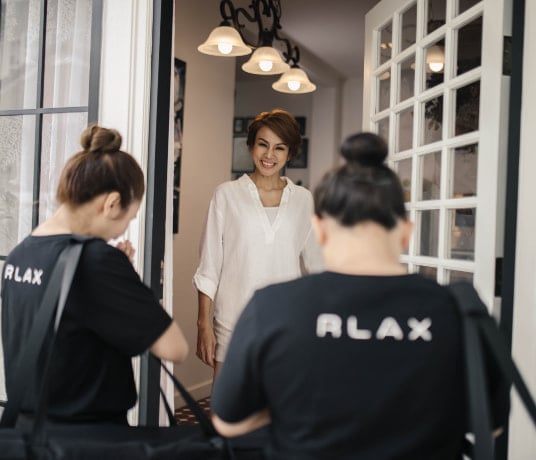 You are in good hands!
All RLAX therapists are rigorously trained, fully qualified, and accredited by the Ministry of Public Health. Our Therapist Training and Onboarding procedures are done in cooperation with the Thai Oasis Spa School, a sister brand of Oasis Spa, one of Thailand's most acclaimed day spa industry companies.
Stay younger with a Facial Acupressure and Head Massage
Living your years of youth again might be impossible, but that should not stop you from getting your young look back. Perhaps, a Spa Facial Massage was not your first thought (It should) when we mentioned youth. And maybe, you think of creams and oils as a way to solve wrinkles but sometimes, it is just not enough so you should consider alternatives. Here's a hint, RLAX Spa Facial Massage.
This treatment is for people who desire a younger-looking face and/or relief from headaches, migraines, and facial tension. It combines acupressure with a facial massage. The result is an increase in blood flow, the stimulation of immune reactions that reduces inflammation, relief from head pain, jaw tension, and anxiety. It also works to deliver nutrients and oxygen to skin cells, nourishing the skin to help eliminate facial lines due to aging.
Rightfully so, wondering what makes our Spa Facial Massage different than the other facial massages makes total sense. To begin with, although Thailand is a massage haven for tourists, finding a good and legit massage shop is like looking for a needle in a haystack. The mystery, the creepy vibes, and the risk will keep you on your feet so instead of a relaxing treatment, it is a stressful experience. Meanwhile, there is RLAX, a mobile massage service that connects you to a pool of professional, licensed practitioners that ensure the best quality. You choose the place, adding more comfort to the equation.
On top of that, by adding the word "Spa" to the package, we mean it. Our massage on-demand is designated to give you a spa experience at your home, hotel, or office. We bring you all equipment along with Thailand's best hands. So get yourself spoiled and begin your Spa Facial Treatment with RLAX.