Order a massage at home through our website or app with just a few clicks.
A trained RLAX massage therapist will arrive promptly on the time & day of your choice.
Enjoy your home massage treatment, knowing that you are in capable hands.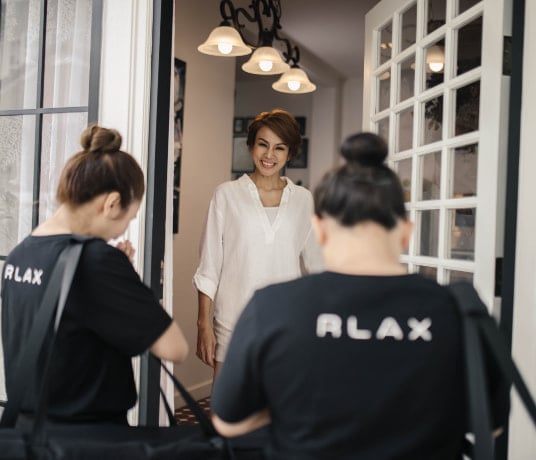 All RLAX massage therapists are rigorously trained, fully qualified, and accredited by the Ministry of Public Health. Our Therapist Training and Onboarding procedures are done in cooperation with the Thai Oasis Spa School, a sister brand of Oasis Spa, one of Thailand's most acclaimed day spa industry companies.
Couples Massage
A couples massage can be an intentional, soothing and enjoyable bonding activity for people to quality spend time with their significant other or loved ones. A delightful massage experience can help boost feelings of intimacy and affection as the body releases serotonin, dopamine and oxytocin.
RLAX Home Massage delivery provides a great opportunity for you to experience a spa-quality massage in the comfort of your own home or hotel. You can find us in all of Thailand's most popular locations and we are still rapidly expanding.
If you are also interested in trying out different massage treatments, then you could choose from one of the options available:
Book a Couples Massage straight to your home
When booking a Couples Massage on the RLAX website or mobile application, you can select 1 of 2 options:
RLAX will send two therapists to perform your massage at the same time.
For this option, a single therapist will perform two massages, one after another.
You may choose the same or a different type of massage for the second person.