Treat your partner with a soothing massage. Share a relaxing experience that will leave you free of stress, tension, and aching. A loving treatment for a loving couple.
RLAX couple massage will bring the spa to you, romantic mood included. Available for you, 7 days a week, from 8 am to 12 pm.
Order through our website
or app with just a few clicks.
A trained RLAX massage therapist will confirm your booking & arrive promptly on the time and day of your choice.
Enjoy your treatment, knowing
that you are in capable hands.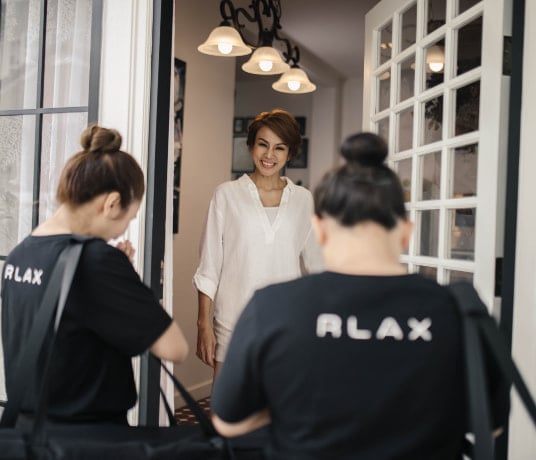 You are in good hands!
All RLAX therapists are rigorously trained, fully qualified, and accredited by the Ministry of Public Health. Our Therapist Training and Onboarding procedures are done in cooperation with the Thai Oasis Spa School, a sister brand of Oasis Spa, one of Thailand's most acclaimed day spa industry companies.
Life is beautiful. It is important to share the best moments with someone you care about. A Couples Massage is more than being in the same room receiving relaxing treatment. It is the ability to feel relief but also sharing the experience with someone you hold close to your heart.
For the massage, you have the option to select two therapists or just one. In either case, RLAX professional practitioners are trained to deliver a loving atmosphere, full of joy and pleasure. Yet, the service is not limited to just couples. You can always share the treatment with a friend or a family member. Our practitioners will adapt to the mood.
RLAX offers a variety of massages from Thai massage to something more relaxing. If you love Aromatherapy, our Aroma Oil massage is perfect for couples. As for a workout massage, Thai massage will provide stretches that will help get rid of muscle tension.