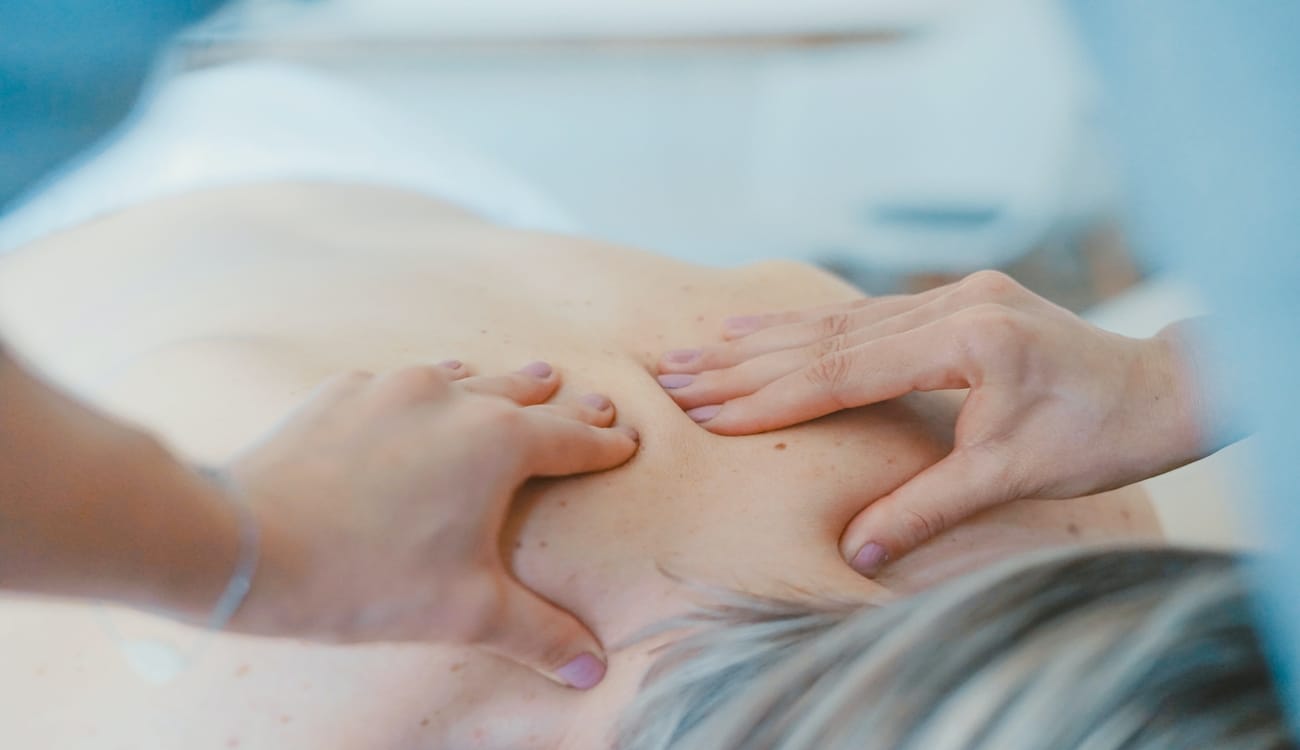 The 5 Basic Massage Moves and Effects
Swedish massage has a lot of benefits for your health and well-being. It consists of five basic massage moves, that work and relax your whole body and mind. We show you what these 5 basic massage moves and effects are.
If you are looking for a full-body therapeutic massage that works your soft tissues and muscles then Swedish massage, besides Thai Massage, is perfect for you. Massage therapists use five main massage techniques for the best effects. Those are:
Effleurage

: stroking and gliding

Petrissage

: kneading

Tapotement

: tapping or pounding

Friction
Vibration
The 5 Basic Massage moves and effects in detail
1. Effleurage
This massage technique is usually performed at the beginning of a massage treatment and is applied with light pressure: Your therapist will use their fingers and flat hands to stroke and glide over your body. Long strokes help increase the temperature of the soft tissues, which encourages blood circulation towards the heart.
Effleurage is a very beneficial and highly effective technique: It is used to increase blood flow, to stimulate lymphatic drainage and to promote relaxation. When performed friction increases temperature and helps relax muscle cells. It also releases feel good hormones, e.g. endorphins, which reduce stress and anxiety levels.
This very gentle massage technique is often performed on its own and is very effective for recovery and to enhance healing. It relaxes the body and lowers the heart rate, so if you are looking for deep relaxation, Effleurage is perfect for you.
2. Petrissage
After preparing your muscles with Effleurage, your massage therapist can proceed with Petrissage: It is an effective technique that applies pressure to tissue and muscles through stretching, kneading and squeezing. This improves blood flow, relieves knots and muscle spasms and improves muscular function. It also increases tissue elasticity and helps remove waste products from the muscles.
After a strenuous workout, Petrissage can be a real godsend, because it decreases tension, reduces delayed muscle onset soreness and helps the athlete recover. If you are following a strict training programme, it can be beneficial to maintain healthy muscles. Further, it helps to be able to keep training.
3. Tapotement
In the third stage of Swedish massage, your massage therapist will move to Tapotement: It involves rhythmic tapping, pounding or patting with either the edge of the hand, cupped hands or the tips of fingers.
It is highly efficient to help revitalize sore and tired muscles, which is why it is the most common massage technique used for athletes. Moreover, it increases blood flow and relieves tension-related headaches. It also helps rejuvenate cells and strengthens the immune system. As you can see, Tapotement is perfect after a long stressful day or a strenuous workout.
4. Friction 
Friction is a deep and specific massage technique: It is archived by rubbing a body part in a particular manner. It can feel a little uncomfortable, but it has a lot of benefits that make it all worthwhile: Friction improves healing, range of motion and blood circulation.
It is often used to break scar tissues and promotes the production of healthy tissue by realigning tendon fibres. These make up the tendons, which are the connection between the muscle and bone. When tendons get injured, they can cause pain and dysfunction. Friction massage helps decrease this pain and improves the function of the tendons. 
5. Vibration
During this massage technique tissues of the body are pressed and released in an up and down or shaking and vibrating movement. Massage therapists use the palm of their hands or the fingertips to perform Vibration.
Overall, it improves nerve function, muscle relaxation and increases relaxation. It can not only affect superficial body parts, but also internal organs. Further, it helps muscles relax and can be used to prevent and treat muscle tightness.
If you are an athlete, getting a massage regularly can help to relieve sore and tight muscles, so you are ready for your next training. Further, it also enhances recovery and healing. It is also the perfect massage after a stressful day, because it can help you truly relax.
At RLAX we offer massage on demand: Our fully trained and friendly therapists come directly to your office or condo. RLAX delivers the perfect massage brought to your door. Treat yourself and book a relaxing massage right away.